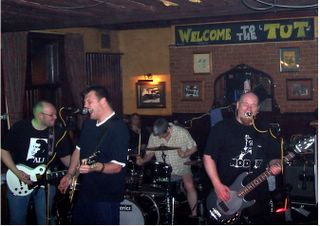 The Erics at the Tut........
It wasn't packed at the Tut n Shive but what the Crowd lacked in quantity they made up for in quality.
Phil was using Sam's spare amp, he had problems as the volume control was glued to Sam's usual setting of 11. Once the sound had settled at its normal ear-splitting level, the band delivered a set which left the locals promising greater numbers at the bands next visit.
It was great to see old friends from the 4-Millions era. This led to a post gig nostalgia-fest of even greater intensity than normal. Thanks to all of you that came.
next gigs are:
The Crimea - Castleford Fri 8th April
The New Inn - Churwell (Morley) Sat 9th April